Prepaid SIM 90GB DATA SIM Super Fast 4G Internet for Europe

4G ON SMARTPHONE, IPAD, USB MODEM, TABLET, NETBOOK OR WIFI/MIFI ROUTERs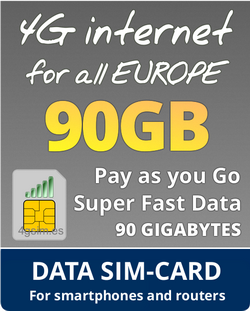 For all who need a mobile Internet in large quantities in EUROPE for work or leisur.
90 GigaBytes  Super Fast 4G Internet in: Germany, Austria, Belgium, Bulgaria, Croatia, Cyprus, Denmark, Estonia, Slovakia, Slovenia, Finland (including the Aland Islands), France (including Martinique, Guadeloupe, Saint Martin, French Guyana, Reunion and Mayotte), Greece, Hungary, Ireland, Iceland, Italy and Vatican City, Latvia, Liechtenstein, Lithuania, Luxembourg, Malta, Norway, Netherlands, Poland, Portugal (including Madeira and Azores), United Kingdom (including Gibraltar), Czech Republic, Romania, Sweden, Spain.
Prepaid Sim: 90GB DATA in Europe (Pay As You Go-PayG);
Renewal price: 49.50€ / 30 days;
Universal SIM 3 in 1: stand., micro, nano;
Network: Orange Spain coverage;
Access Point (hotspot): Yes/allowed;
Activation: On Any Date You Need.
We will register for you with your personal dates provided this SIM card. We need the ID card number or passport and date of birth in order to activate it.
4G lte Internet is a high-speed communication technology, the Internet is capable of speeding up anywhere in Spain up to 300 Mbps
Download speed (Download): up to 300 Mbps
Upload speed: Up to 150Mbps
The maximum speed in the network + 4G is up to 300Mbps. Average speed depends on a number of factors: equipment characteristics; terrain features and meteorological conditions.

We offer you the fully wireless Internet connection and give you an access to the world of 4G Internet on any territory of Spain.
♥– Access Internet on the largest cellular network in Europe;
♥– Have your own wireless Internet connection all around Europe;
♥– Keeps you connected everywhere in all Europe thanks to the extensive 4G LTE and 3G network;
♥– High speed internet connection;
♥– No configuration required;
♥– Mobile 4G Internet For Boats and Yachts in Europe;
♥– Prepaid Mobile 4G Internet for travel on a Caravan in Europe;
♥– Prepaid Mobile 4G internet for Camping in all Europe;
♥– Mobile 4G Internet for watching TV. Youtube, Netflix and other videos in Europe;

The SIM card is sent deactivated, for the activation of the same it is necessary that we provide a scanned (Foto)copy of the DNI / NIF / NIE / PASSPORT of the owner of the line. Without this documentation, the card can not be activated.
This card is recommended for: Customers who need lot 4G Internet in Europe.

Sim-card is activated at the date you need!
With tracking and drop-off without signature. If you prefer delivery by UPS Extra with required signature, an additional cost will be applied, so please contact us before choosing this method. Whichever shipment choice you make, we will provide you with a link to track your package online.
Possible order for Whatsapp, Telegram: +34 634 364 062