Movistar

SPANISH PREPAID SIM CARD – Pay As You Go-PayG



RATE 15GB DATA + 80 minutes to landlines and mobiles.*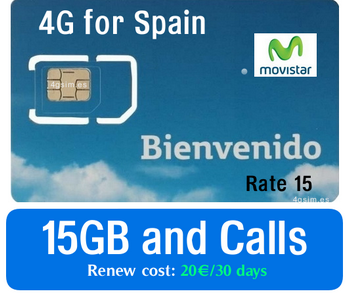 4G Internet: For 20€ per month provides 15GB high-speed navigation
Calls in Spain: 80 minutes to landlines and mobiles.*
All incoming calls: 0€
SMS: 0,18€/SMS *
Connections: 0,25€
Pay As You Go – PayG
International calls: From 1.21 cent / min. Call establishment from 18 cents, depending on the destination country.
SIM Card Activation: Free (On Any Date You Need) We will register for you with your personal dates provided this SIM card. We need the ID card number or passport and date of birth in order to activate it.
Do you know how Movistar prepaid cards work?
The Movistar SIM Prepaid Card is activated with the first call, after which you will receive a welcome SMS. As of that moment, they have a validity of 6 months that will be renewed each time you do a recharge:
– If in 6 months you do not recharge, the balance expires. You can recover it by recharging it within 40 days.
– If you run out of credit or you are out of date, you can receive calls for 40 days and SMS for 54, but you will not be able to call, send messages or use the Internet (unless you have registered an option that allows it).
– If after 54 days you have not recharged, the card is permanently canceled and you lose your number.
Why is it better with Movistar?
In Movistar we have the largest network of communications in national territory, so you can enjoy the best mobile quality wherever you go. In addition, we have an ample catalog of 4G smartphones that you can acquire free or with a new rate and pay with your card or in comfortable terms.
You can use 4G Internet in the following countries for no more than 2 months in a row: Germany, Austria, Belgium, Bulgaria, Croatia, Cyprus, Denmark, Estonia, Finland, France, Gibraltar, Greece, Guadeloupe, French Guiana, Holland, Hungary, Ireland, Iceland, Italy, Latvia, Lithuania, Liechtenstein, Luxembourg, Malta, Martinique Islands, Monaco, Norway, Poland, Portugal, Czech Republic, United Kingdom, Reunion, Romania, San Marino, St. Martin and Sweden.
What happens if I exceed the minute or GB franchise of the Prepaid Rate?
Once the voice franchise is passed, you will call 6 cents / minute unless you contract a Talk + bonus with 60 minutes for only € 5.
If you surpass the data franchise, you can buy Bonus + 1GB for € 5 or an Extra Bonus 200. MB for € 2, to continue browsing.
This card is recommended for: Customers who need 4G-Internet and Calls in SPAIN and Europe
We ship worldwide, to your home, hotel or where you like!

Sim-card is activated at the date you need!
With tracking and drop-off without signature. If you prefer delivery by UPS Extra with required signature, an additional cost will be applied, so please contact us before choosing this method. Whichever shipment choice you make, we will provide you with a link to track your package online