Movistar Habla 6 –

SPANISH PREPAID SIM CARD – Pay As You Go-Pay
Calls to any Spanish Mobile and Landline Phones:

€ 0.06 / min *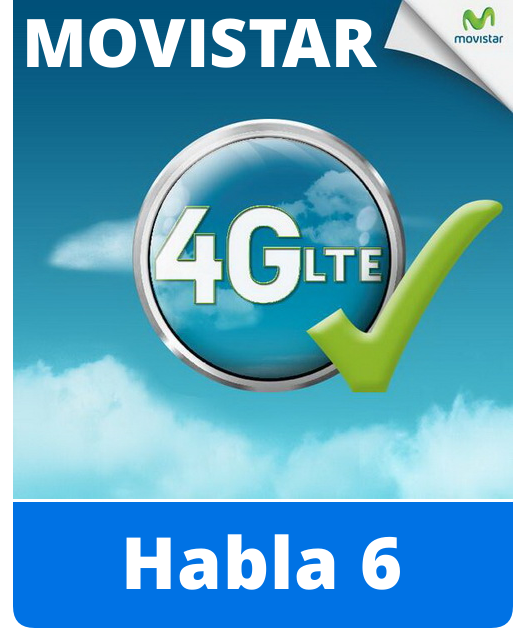 Movistar prepaid sim card: standard rate Habla 6 (Pay As You Go-PayG)
Sim card with initial balance: 10€
Universal 3 in 1: stand., Micro, nano, calls in Spain, or in European countries.
SIM Card Activation: To activate the SIM card you need the NIE/DNI/Passport and date of birth. Activation on the day you need.
Access Point (hotspot): allowed.
SIM card expiration date: 6 months (after the last balance recharge)
Daily Internet Rate: 400MB for 4€ on the days you connect.
⇒ Calls to any Spanish Mobile and Landline Phones: € 0.06 / min *
⇒ All incoming calls: 0€
SMS: 0,18€/SMS*
Call connection: 0,30€
International calls: from Spain to more than 40 countries from 1.21 cts / min. Establ. Call: 36.30 cts. (VAT incl.).
Enjoy talking with everyone and at any time
With the Movistar Habla 6 prepaid card you will have national and international calls without fees or a commitment to recharge. National calls to fixed and mobile of any operator and at any time at 6 cts / min (VAT included). Call establishment: 30 cts (VAT included). International calls to fixed and mobile from 1.21 cts / min (VAT included). Call establishment: 36.30 cts. (VAT included). See price detail by country here.. See detail of price by country here
EU Roaming: includes calls and messages to and from any country in the European Union, Iceland, Liechtenstein and Norway (European Economic Area) and data traffic originating in these countries. The prices and conditions will be the same as those defined for national traffic. Calls and international messages, calls addressed to special rate numbers and additional charges (905, 80X).
This card is recommended for: Customers who need Calls in SPAIN and Europe
We ship worldwide, to your home, hotel or where you like!

Sim-card is activated at the date you need!
With tracking and drop-off without signature. If you prefer delivery by UPS Extra with required signature, an additional cost will be applied, so please contact us before choosing this method. Whichever shipment choice you make, we will provide you with a link to track your package online