Telephone line and Fast 100/100 Mbps/s symmetrical Internet for home or office in Spain.
TOP symmetrical Optical Fiber internet speed 100/100 Mb/s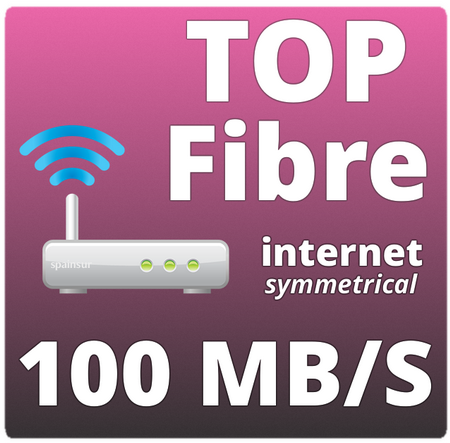 TOP Fibre 100/100 Mbps/s – Home Internet in Spain, delivering superfast broadband speeds of up to 100Mbps/s. This means there's no more battling for bandwidth, even in the busiest home or office. Telephone line for home

Installation pric: 50 €
Renewal price: 44,90 € / 30 days
The cost of the first month includes: Connection, Wifi Router, 30 days of Internet.
Downloading speed: 100mb/s
Upload speed: 100mb/s
Coverage: Orange
Request: Quick connection design
Internet installation time: up to 7 business days
Unlimited calls: to Spanish landlines
Unlimited calls: to all numbers Orange Spain
Calls to other Spanish operators: 0.25 cts / minute
Calls to European home numbers: 0.08 cts / minute
Calls to European mobile numbers: 0.30 cts / minute
⇒– To connect to the Internet in Spain you need: Bank account (IBAN), passport or NIE, DNI.
⇒– Contract: No commitment to remain. You can turn off the Internet at any time, for this you need to return the router back to us. If the router does not return, a cancellation fee of € 100 will be charged.

Основные преимущества: Оптическое волокно – это долговечный материал, который имеет очень высокий уровень пропускной способности. Именно эта характеристика отвечает за высокую скорость передачи данных; Безопасная передача данных – использование оптоволокна позволяет программному обеспечению мгновенно выявить факт несанкционированного доступа к данным сети. Доступ злоумышленников к информации практически невозможен; Оптоволокно также отличается отличным уровнем защиты от помех и хорошим шумоподавлением; В отличие от коаксиального кабеля, благодаря особому строению (рисунок 2) оптоволокно имеет в несколько раз большую скорость передачи данных, особенно файлы аудио и видео; Подключение оптического волокна позволяет организовать систему для ряда дополнительных опций, к примеру, для установки системы видеонаблюдения или охранных устройств.
Основные преимущества: Оптическое волокно – это долговечный материал, который имеет очень высокий уровень пропускной способности. Именно эта характеристика отвечает за высокую скорость передачи данных; Безопасная передача данных – использование оптоволокна позволяет программному обеспечению мгновенно выявить факт несанкционированного доступа к данным сети. Доступ злоумышленников к информации практически невозможен; Оптоволокно также отличается отличным уровнем защиты от помех и хорошим шумоподавлением; В отличие от коаксиального кабеля, благодаря особому строению (рисунок 2) оптоволокно имеет в несколько раз большую скорость передачи данных, особенно файлы аудио и видео; Подключение оптического волокна позволяет организовать систему для ряда дополнительных опций, к примеру, для установки системы видеонаблюдения или охранных устройств.
Fibre availability and packages differ depending on which area of Spain you are in –

contact us for a free address check
–
Place an order and we will contact you within 2 hours to arrange the connection to the Internet.

Installing the Internet within 7 days.

.
Broadband on fiber in Spain
The best Solution for your Home in Spain, Fiber internet with fast speed
What is Fiber Home?
Fiber Home in Spain is an end-to-end optical fiber network to your house that delivers superior download and upload speeds than ADSL over copper network. It is also more robust and stable. With Fiber Home in Spain you can watch movies in HD, do online gaming, download larger files and more.
Key Features
Very fast download – Download large files in less time.
Enhanced reliability – Consistent and stable connectivity on fiber that provides you a high quality of Internet experience.
Improved efficiency – Reliable bandwidth speeds can make many day-to-day activities run more smoothly and take full advantage of the speed subscribed to.
♦– Now serving ALL of Spain with Fibre internet
♦– Download and stream at lightning-fast speeds
♦– NO restrictions on data
♦– Suitable for the busiest homes and office
If you have any questions, write us on Whatsapp, Viber, Telegram: +34 634 364 062, or write to e-mail: surelfaro@gmail.com
For those who need fast internet in Spain, at home or in the office! With Fiber Optica in Spain, you can instantly download any web pages, listen to your favorite songs and watch movies in HD quality online, download files of any size, chat on skype, etc. *