Vodafone International prepaid sim cards for international calls
Pay As You Go 1 – Prepaid SIM Card Espana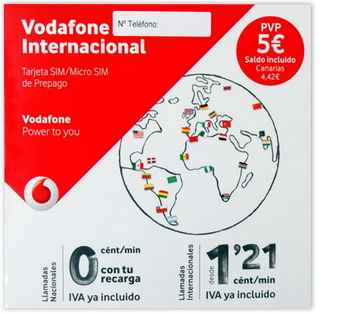 Prepaid SIM Card – Pay As You Go 1 – PayG. With the Vodafone International Prepaid Rate you will enjoy:
National calls and SMS
• With Vodafone International you will speak at 0 cents. / min. to all operators, 24 hours, for 7 days, with each of your recharges, regardless of their amount and with only one call center of 30 cents.
• Without recharge, the price will be 8 cents. / min. plus 30 cents call establishment.
• National SMS to any operator, 24 hours: 18.15 cents.
• Roaming included: Now your national rate can also be used in the countries of the European Union, Iceland, Liechtenstein, Norway, Switzerland, Albania, Turkey and the USA. Andorra not included.
International calls and SMS
• With Vodafone International you will speak from 1 cent. / min. 24 hours and with only one call center of 30 cents.
• International SMS to any operator, 24 hours a day: 72,6 cents
– Check prices here as your destination country
And if you also need to connect to the Internet
• Bonus of 300Mb, enjoy it for only € 5 a month including VAT.
• Contract it by dialing free from your mobile * 313 * 22 # more call key.
SIM Card Activation: Free (On Any Date You Need) We will register for you with your personal dates provided this SIM card. We need the ID card number or passport and date of birth in order to activate it.

It operates throughout Spain including the Canary Islands and Majorca islands.
Our Vodafone cards are valid 10 months since the activation or last top-up.
RECEIVE FREE INCOMING CALLS WHILST SPAIN.
The 4G of Vodafone reaches 86% of the Spanish population.
4G is available in 1,900 populations: in all provincial capitals, in the main urban populations and also in many rural populations.
This card is recommended for: Customers who need international calls in Spain
Download the free Mi Vodafone App
You need it? Well you have it.

– Direct recharge of your balance, if you are prepaid.
– Or check your last 12 invoices, if you have a contract.
– Always be on parody of how many Megas and minutes you have spent.
– Activate, deactivate and personalize your answering machine.
– All offers and benefits will be intended just for you. In addition, you will enjoy a multitude of exclusive promotions to get the most out – of your rate.
We ship worldwide, to your home, hotel or where you like!

Sim-card is activated at the date you need!
With tracking and drop-off without signature. If you prefer delivery by UPS Extra with required signature, an additional cost will be applied, so please contact us before choosing this method. Whichever shipment choice you make, we will provide you with a link to track your package online.