Lobster SIM: 6GB + Unlimited calls/Sms
We're Spain's only 'all-in-English' mobile service. We're SIM-only, 4G and super-easy to use.

Lobster SIM Small
Renewal price: 12€ / 30 days
The price includes: SIM card (Universal 3 in 1: stand., Micro, nano), 6GB internet for 30 days in Spain and Unlimited calls / sms (Pay As You Go – PayG)
Activation: The Internet is activated on the date you set.
Access Point (hotspot): allowed.
SIM card expiration date: 6 months (after the last balance recharge)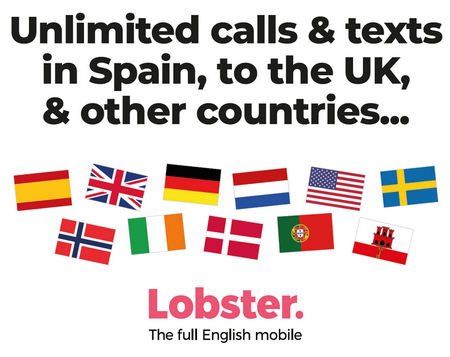 All our great plans come with data, unlimited calls and unlimited texts between Spain, the UK and other countries. Spanish premium numbers and special numbers (like 901 and 902 numbers) aren't included in the plan and are charged, for prices click on the price guide at the bottom of this page. Our monthly plans will start as soon as you activate your SIM and run month to month. Remember, you are free to stop and start any month you like.
Calls and texts to and from Spain, UK, Denmark, Germany, Gibraltar, Ireland, Netherlands, Norway, Portugal and Sweden are included in your plan. Calls and texts to the US from Spain are also included in your plan.
The Coverage Movistar
We have full national coverage in Spain, running on the Movistar network (and they don't come any bigger or better than that!). Our coverage gives you super fast data up to 4G. And we have full international coverage too.
Can I use my Lobster mobile when I go on holiday or go back home to see the family?
Yes you can. If you're travelling within Europe you'll be able to use it in the same way you do when you're in Spain with no extra charge. If you're travelling a bit further you can use it too as our network extends to most international destinations, however any time you make a call, send a message or use the internet it will be deducted from your credit.
No Commitments
You simply pay upfront, month by month, for one of our great plans. You're free to stop and start again any month you like. No lock-ins, no termination fees. We want you to stay because you're happy with our great service, not because we tie you in.
What is Lobster
We're Spain's only 'all-in-English' mobile service. We're SIM-only, 4G and super-easy to use. From just €12 a month, you get a great data  deal and unlimited texts and calls between  Spain, the UK and a host of other countries.
In fact you get all the benefits of a contract deal – all the value, all the control – without any of the commitment or hidden surprises.We give you the option for everything in English too. Bills, websites, customer service. You can even chat to us in English.Our plans are super simple. Just choose the data bundle you need. And if you want to go larger or smaller next month, swap.You can join in an instant. No utility bills, no jumping through hoops. Just sign up, we'll send you the SIM, and off you go. One payment gets you a month of service. You can then keep going, add more data, leave or even 'park your number' for a while. With us, you really are as free as a bird!
—————————————————
Note: We will register for you with your personal dates provided this SIM card. We need the ID card number or passport and date of birth in order to activate it.

We ship worldwide, to your home, hotel or where you like!

Sim-card is activated at the date you need!
With tracking and drop-off without signature. If you prefer delivery by UPS Extra with required signature, an additional cost will be applied, so please contact us before choosing this method. Whichever shipment choice you make, we will provide you with a link to track your package online.