Neosurf PINs
Buying Neosurf PIN couldn't be any easier. Simply choose the amount of credit you want to spend. Then proceed to checkout. After that, you will receive your Neosurf by email.
It is available in these amounts: 15€, 30€, 50€, 100€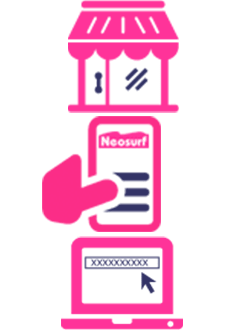 1. Select the amount to replenish
2. ADD TO CART – CHECKOUT
4. Make payment
PIN code will be sent to your EMAIL
Neosurf vouchers are the perfect alternative to pay online without a credit card. This payment method helps you to maximize your online security. How? First of all, because with this secure prepaid voucher you don't provide any personal or financial data. So your chances of being scammed are minimized. Second, you limit the amount you spend to secure prepaid credit amounts. You can never spend more than you have already paid for. Overspending is not possible!
How long is a Neosurf Voucher valid?
Your Neosurf code does not expire. However, this product is designed to be spent relatively fast. After 1 year from the purchase or 6 months from the last use, a small inactivity fee of 2€, or the equivalent in other currencies, will be deducted from your balance every month. To avoid that, simply transfer the remaining credit from one voucher to another and make sure to use the credit before the inactivity fee is charged.
Redeem instructions
You can use the Neosurf voucher anonymous and directly as payment method. The first one:
– Surf to the desired webshop where you can checkout with Neosurf;
– Fill your shopping basket and choose Neosurf as a payment method;
– Enter the code you received from us;
– That's all!
Do you want to check the balance on your Neosurf voucher? You can do it like this:
– Go to the Neosurf website;
– Then choose 'My map' from the menu;
– Enter the 10 digits of your code and click 'Continue';
– You will immediately see the unused balance, your transaction history and more.
You can also easily transfer your balance to another Neosurf card.
Product is not refundable
---
If you have any questions or requests, please contact us at the following contacts Whatsapp, Telegram: +34 634 364 062