The SPARK® prepaid Mastercard®
that simplifies your day to day purchases, your trips and your business..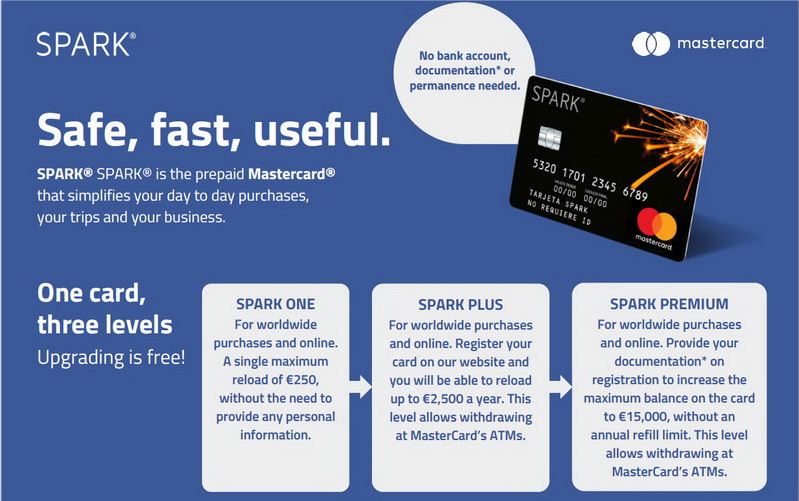 > No bank account – Spark MasterCard does not need to be linked to a bank account.
> No documents – You do not need to provide documents to use the card, until you upgrade to Spark Premium.
> No engagements – ou can decide to close your account at any time.
> Safe online shopping – Purchase online without exposing your bank account, spending only the money you put on the card
> Purchase at stores – Use your card to purchase in millions of shops and ATMs around the world that accept MasterCard.
> Online Betting – Use it on online betting websites and make sure the emotions stay on the field.
> Payments while traveling – Explore the world with your Spark MasterCard and travel with a practical and secure card.
What do I need to buy a Spark?
In order to obtain a reloadable prepaid Spark MasterCard, you just need to buy it! You don't need a bank account, documents, and there is no engagements.
How much does a Spark MasterCard cost? Does it include balance?
The Spark MasterCard has a price of 15€ and it comes without balance.
It is a prepaid MasterCard, which can be reloaded for a period of five years
Spark levels and limits
Your Spark MasterCard is one card with 3 levels:
Spark: When you buy the card and activate it, your card is at this level. You can make one card load of up to 250€.
Spark One: If you register your card in our website with your personal details, your card will automatically become Spark One, which allows you to reload it up to 2,500€ per year.
Spark Premium: If you also upload your documents, we will upgrade your card to Spark Premium in 24 hours. Spark Premium allows your to have a maximum balance of 15,000€

without any annual loading limits.
How much can I withdraw from an ATM?
You can withdraw up to 500€ per day with the levels Spark One and Spark Premium.
Why do I need to register my personal information?
1. To upgrade your card from SPARK LEVEL to SPARK PLUS, you should register your card with truthful information. In case of incident or trouble, your ID (DNI, NIE or passport) will be required for verification.
2. To upgrade to PREMIUM LEVEL all the registered information should match the documentation provided, either DNI, NIE or passport.
How do I active my card? How do I get my PIN?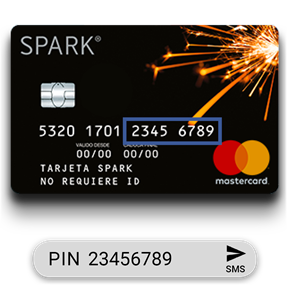 To active your card, you just need to send an SMS with the word:
PIN [space] and the last 8 digits of your card to +34 600 67 07 07. Example: PIN 23456789. After a few seconds, you will receive an SMS confirming that your card has been activated and your PIN. You will need your PIN to buy at physical stores and the first time you access "MY CARD" in our website.
Where can I use my Spark MasterCard?
SPARK is a prepaid MasterCard, which means that you will be able to use it in millions of MasterCard affiliated shops and ATMs around the world, as of course, online.
Can I use my card abroad?
Of course! Spark MasterCard is a prepaid card that can be used anywhere in the world that accepts MasterCard.
What is the Card ID Number?


The Card ID Number is a 12 digit number that starts with 2000… and is located in the back of your card.
The card ID number is used like an account number and is used to reload your card through banks or points of sale, and also for identifying yourself with our customer service.
Using the card ID number is a way to protect your information and avoid exposing your real card number to any third party.
Price and Fees
Transactions
Purchases in Spain (physical shops or Internet): No additional fees
Purchases abroad: No additional fees
ATM withdrawal (Spain or abroad): 0€*
Purchase declined for lack of funds: 0.20€
SMS
SMS additional PIN request: 0.15 €
SMS balance request: 0.15 €
SMS block/unblock card request: 0.15 €
SMS transfer balance card to card request: 0.15 €
Reload Limits
Minimum reload amount by bank deposit or bank transfer: 10 €
Maximum reload amount by bank deposit or bank transfer: Check levels
Minimum reload amount by debit or credit card on the web: 50 €
Maximum reload amount by debit or credit card on the web: 500 €
Maximum number of reloads: per day 3
Maximum balance on a Spark Premium: 15,000 €
Maximum purchase amount: per day 10,000 €
Maximum ATM withdrawal: per day 500€
Reload Fees
Reload by Bank Deposit or Bank Transfer: 2% of amount loaded
Reload by Debit or Credit Card: 5% of amount loaded
Reload in Authorized Points of Sale: 5% of amount loaded
Transfer Card to Card: 1% of amount loaded
Transfer funds to a new card if previous card lost or stolen: FREE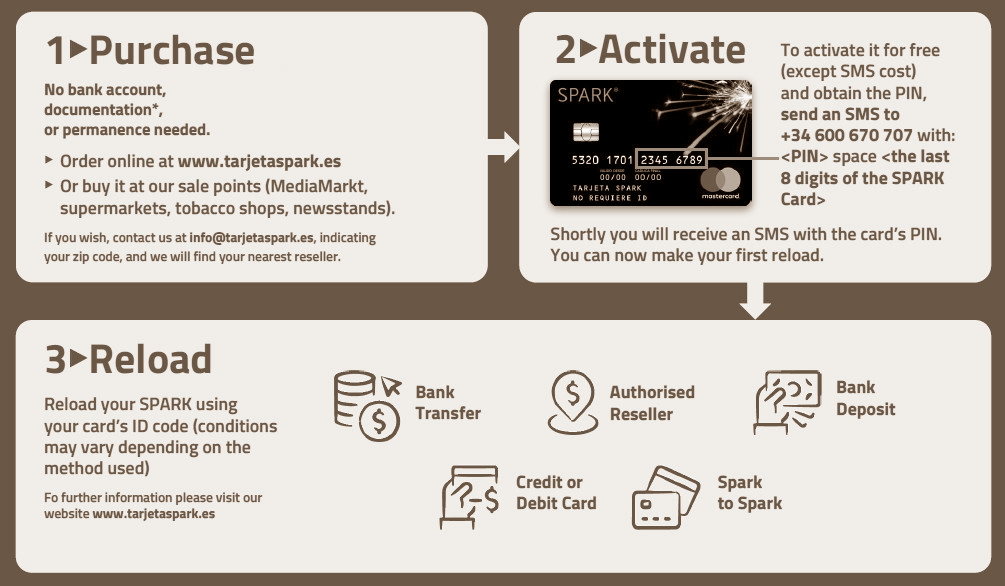 Product is not refundable
---
If you have any questions or requests, please contact us at the following contacts Whatsapp, Telegram: +34 634 364 062