Hitsmobile SIM:

2GB for internet + 500 minutes national and International calls from Spain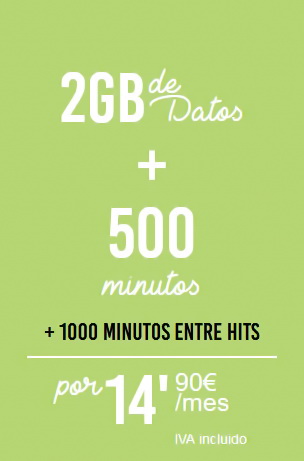 SIM Card for International calls 500 minutes from Spain to mobile and landline phones, 2GB Internet (Pay as you go SIM)

Hitsmobile, Vodafone network coverage
International calls: 500 minutes for 30 days
Calls to Spanish phones: 500 minutes for 30 days
Calls between Hitsmobile: 500 minutes for 30 days
All incoming calls: 0,00 €
Connection: 0,00 €
4G Internet: 2GB (gigabyte) for 30 days.
Renewal fee: 14.950 € / 30 days
Universal SIM 3 in 1: stand., micro, nano
SIM Card Activation: On Any Date You Need. We will register for you with your personal dates provided this SIM card. We need the ID card number or passport and date of birth in order to activate it.
SIM card expiration date: 5 months (after the last recharge)
HOW DOES IT WORK ?
Your tariff lasts one month and is automatically updated if you have a sufficient balance in your account (14.95 €).
If you have exhausted your bonus up to a month, we will notify you by SMS, you can renew as much as you need. Minutes and MBs that you do not consume when you reach the expiration date of the bonus do not return or accumulate in other months.
500 minutes to INTERNATIONAL calls from Spain to the following countries

Roaming in Europe
You can use 4G Internet in the following countries for no more than 2 months in a row: Germany, Austria, Belgium, Bulgaria, Croatia, Cyprus, Denmark, Estonia, Finland, France, Gibraltar, Greece, Guadeloupe, French Guiana, Holland, Hungary, Ireland, Iceland, Italy, Latvia, Lithuania, Liechtenstein, Luxembourg, Malta, Martinique Islands, Monaco, Norway, Poland, Portugal, Czech Republic, United Kingdom, Reunion, Romania, San Marino, St. Martin and Sweden.
This card is recommended for: Customers who need INTERNATIONAL calls from Spain
– Works on any territory of Spain and Europe
– Vodafone Coverage
– Being always connected to the Internet in Spain and Europe is the best solution!
– Delivery to any territory.
– 4G SIM-CARD It works on all 4g-3g Devices
– 4G Internet provider guarantees you the secrecy of your personal data and has a high level of protection from any illegal access.


We ship worldwide, to your home, hotel or where you like!

Sim-card is activated at the date you need!
With tracking and drop-off without signature. If you prefer delivery by UPS Extra with required signature, an additional cost will be applied, so please contact us before choosing this method. Whichever shipment choice you make, we will provide you with a link to track your package online.
Possible order for Whatsapp, Telegram: +34 634 364 062