Lycamobile Lyca Globe S

–

Prepaid Sim Card national and international calls from Spain and 2GB internet in Spain.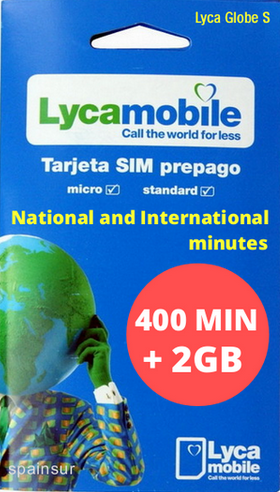 Lycamobile Lyca Globe S: Calls and Internet in Spain (Pay As You Go-PayG)
400 minutes: calls to Mobile and Landline phones in Spain
400 minutes: international calls from Spain
All incoming calls: 0,00 €
Connection: 0,00 €
4G internet: 2GB in Spain / 30 days
Renewal price: 10 € / 30 days
Universal 3 in 1: stand., Micro, nano), calls in Spain, or in European countries.
SIM Card Activation: Free (On Any Date You Need) We will register for you with your personal dates provided this SIM card. We need the ID card number or passport and date of birth in order to activate it.
Access Point (hotspot): allowed.
SIM card expiration date: 2 months (after the last recharge)
SIM Card for national and international calls from Spain, 4G Internet;
Pay As You Go-PayG
Movistar coverage, internet speed 50mb / s.
LIST OF COUNTRIES FOR INTERNATIONAL CALLS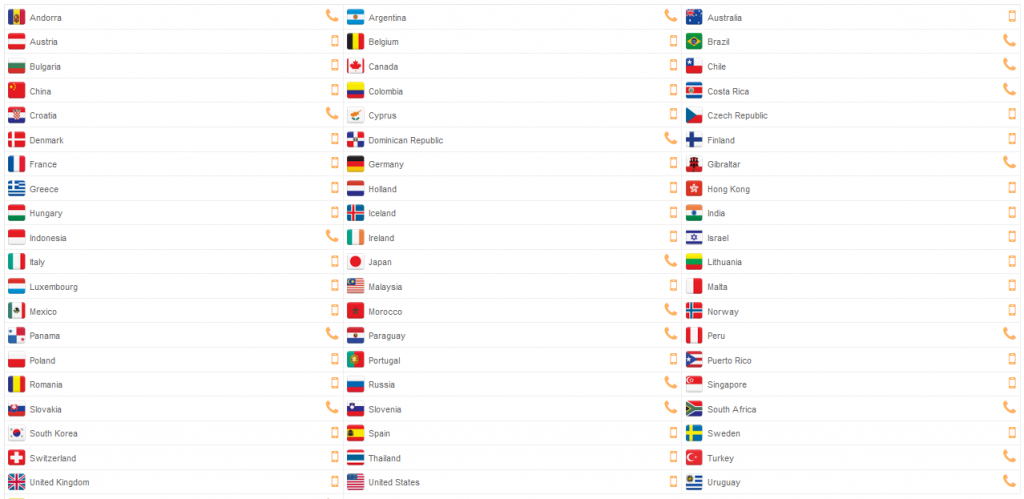 *2GB can be used on Roaming inside EU
*Unlimited Lyca to Lyca calls from Spain to Romania
*100Lyca to Lyca SMS in Spain
Note: Colombia rural prefix excluded in the bundle
*Minutes and texts are subject to our Fair Usage Policy of 5000 each per month. If this is exceeded, customers will be charged at our Standard National, Saver Plan or Smart Tariff rates, depending on which they have subscribed to.
EU Roaming – Minutes and data can be used in roaming within the European Union at no additional cost to the customer. If the customer travels or make calls outside the European Union, standard roaming rates apply.
What is a pay-per-use SIM card?
With a SIM Pay per use you can buy a SIM card and recharge it to start making calls, sending text messages and surfing the Internet. Keep in mind that this plan and all other Lycamobile plans are flexible, as they do not include any commitment.
Are all SIM and monthly payment plans from Lycamobile enabled for 4G?
Yes. All plans for SIM only and monthly payment of Lycamobile are enabled for 4G

This card is recommended for: Customers who need 4G-Internet and National and International calls in Spain.
We ship worldwide, to your home, hotel or where you like!

Sim-card is activated at the date you need!
With tracking and drop-off without signature. If you prefer delivery by UPS Extra with required signature, an additional cost will be applied, so please contact us before choosing this method. Whichever shipment choice you make, we will provide you with a link to track your package online.
Possible order for Whatsapp, Telegram: +34 634 364 062