Yolka prepaid SIM-CARDs mobile service in Europe



4G ON SMARTPHONE, IPAD, USB MODEM, TABLET, NETBOOK OR WIFI/MIFI ROUTERs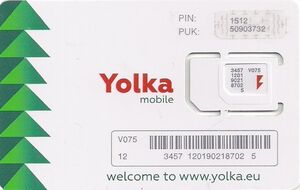 4G Internet for ALL EUROPE (GB Accumulative)
VODAFONE coverage, internet speed 80mb / s.
Universal SIM 3 in 1: stand., micro, nano
Access Point (hotspot): allowed.
SIM card expiration date: 5 months (after the last recharge)
Unlimited calls and SMS.
4G Data for all Europe



You can use your plans like at home in the following European countries:
Spain, Germany, Austria, Belgium, Bulgaria, Czech Republic, Cyprus, Croatia, Denmark, Slovakia, Slovenia, Estonia, Finland, France, Gibraltar, Greece, Guadeloupe (French Caribbean), French Guiana (French Caribbean), Holland, Hungary, Ireland, Iceland , Mayotte Islands, Italy, Reunion, Latvia, Liechtenstein, Lithuania, Luxembourg, Malta, Martinique (French Caribbean), Norway, Poland, Portugal, United Kingdom, Romania, Sweden and the Vatican.
The exact cost of calls and mobile internet depends directly on the country you are going to travel to. So, as long as you spend more time at home than abroad, or you use your mobile phone more at home than abroad, you are considered to be roaming. So, as long as you spend more time at home than abroad, or you use your mobile phone more at home than abroad, you are considered to be roaming. You will not therefore be charged additional for your calls, text and data use in the EU. You can use all plans as at home. You can consume the same amount of data, calls and texts in EU.
Cheap international calls and unlimited in Spain
Unlimited calls inside Spain and to EU countries (when you are in Euroroaming) are included in most of plans. Make cheap international calls abroad to landline and mobile using our YolkaApp on your smartphone (even without internet access). Get a €1 gift after YolkaApp installing.
100% digital and clear. Totally online
Order your SIM on the website just in 3 steps, get it in 1-2 days, insert in your phone and start to use it! You're only required to provide ID and credit card of any country or European IBAN. Also you can choose POSTPAID or PREPAID for mobile services and EVEN home internet (fiber). All plans and conditions are similar for both models. And you always can CHANGE your payment model form prepaid to postpaid or from postpaid to prepaid. Online support is available during business hours 7 days a week with no lunches and holidays. Everything is in your language!
Accumulated and additional gigabytes
All unused gigabytes from your plan accumulate to the next month without any extra payments! After all high-speed gigabytes are consumed, you can buy additional at a discounted price or use low-speed unlimited mobile data access. You can share your gigabytes with your family and friends.
NO: commitments, penalties, and tricks
You simply pay, month by month, for the chosen plan. No penalties if you postpone payments or decide to cancel the contract. Our prices will not grow. You can change your plan every month for free to another one. All services are available: roaming, international calls, premium calls, etc.
Save your Spanish number or choose a new memorable number
Port your Spanish number to Yolka from any carrier regardless of the contract type (prepaid or contract) in 48 hours (on business days, after filling in all the correct data). Or choose the new phone number that you won't forget (for example (+34) 698-999-777). You can keep or choose the number after adding the plan to the cart.
Choose prepaid or postpaid
We have prepaid and postpaid mobile services. They are both without limitations. You have the world roaming, international calls, full bundles in Europe, Gb accumulation and Gb sharing, additional affordable Gb bundles (to do not be offline) but also invoices (facturas) and detailed financial information in your Personal Account. No automatic monthly fee charges on prepaid model if you won't ask for it. You can suspend your SIM for unlimited duration (up to 5 months is for free) and back to SIM use any time you need.
App for android and iphone

And now you can also use our mobile App for android and iphone

How can i log in may Personal Account?
To log in your Personal Account, use the phone number you want to save and PUK, which you'll find on the SIM card (under the protective layer).
You can change your password.
If you forget your password click to «Forgot your password» and we'll send you a new one in text.

This card is recommended for: Customers who need 4G-Internet in Europe.
– Works on any territory of Spain and Europe
– Super Fast and instant 4G Internet Simyo.
– Being always connected to the Internet in Spain and Europe is the best solution!
– Delivery to any territory.
– 4G SIM-CARD It works on all 4g-3g Devices
– 4G Internet provider guarantees you the secrecy of your personal data and has a high level of protection from any illegal access.
– Best 4G internet services in Spain
We ship worldwide, to your home, hotel or where you like!

Sim-card is activated at the date you need!
With tracking and drop-off without signature. If you prefer delivery by UPS Extra with required signature, an additional cost will be applied, so please contact us before choosing this method. Whichever shipment choice you make, we will provide you with a link to track your package online.
Possible order for Whatsapp, Telegram: +34 634 364 062