Three UK (United kingdom) – prepaid sim card for calls and mobile 4G internet in England and all Europe (Pay As You Go – PayG)
Calls to any other UK mobile =
3p /min
Calls to standard UK landline (starting 01, 02, 03) within the UK =
3p/min
Standard UK text messages =
2p a text
Standard UK data =
1p per Mb
Credit (blank):
£0 In the UK, customers on Three Pay As You Go can use their mobile phone from just 3p/minute, 2p/text and 1p/MB. It's also possible to convert your credit into a 30-day Pay As You Go bundle. Your allowances can be used in the UK and in 71 other destinations through the Go Roam offer.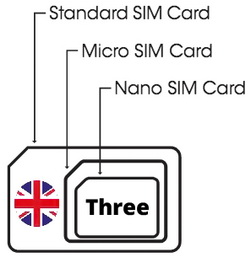 - Pre-loaded SIM with 12GB and valid up to 12 months. Topped up and ready to go.
- Personal Hotspot
- Preloaded with 12GB of 4G data Pay As You Go
- Up to 4G speed (3G compatible)
- No contract to sign
- Data valid up to: 12 months
- Internet Allowance: 12GB
- Roaming FREE in all of Europe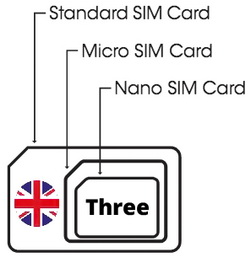 1. Select the amount you want to Top-Up (The quantity "1" is 10£) 2. By adding "quantity" 2, 3 ... you choose the desired amount. For example: choosing the amount "2" your sim-card will be credited by 20£, etc … 3. Add to Cart - Checkout 4. When placing an order in the column "Phone", write the phone number that needs to Top-up. 5. Make a payment
⇒
-
Time of receipt of money on your SIM card:
from 15 minutes to 60 minutes.