Lycamobile

– Standard pay as you go rates sim-cards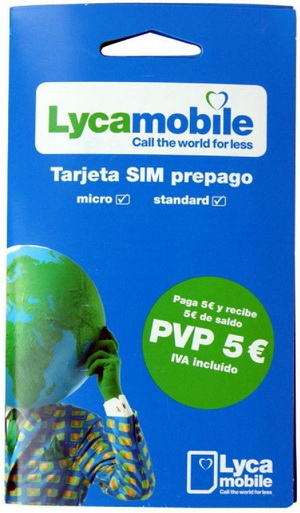 SIM Card for national calls in Spain and international calls from Spain, 4G of the Internet; Lycamobile base rates
Lycamobile Pay As You Go-PayG

Calls to Spain landlines: 0,012 € / min *
Calls to Spain Mobiles: 0.19 € / min *
Calls between Lycamobile: 0.18 € / min
All incoming calls: 0 €
SMS to Spain: 0.19 € / SMS *
Connection: € 0.0.379
4G Internet: 0.16 € / MB
Universal SIM 3 in 1: stand., micro, nano
SIM Card Activation: Free (On Any Date You Need) We will register for you with your personal dates provided this SIM card. We need the ID card number or passport and date of birth in order to activate it.
Access Point (hotspot): allowed.
SIM card expiration date: 2 months (after the last recharge)
You can use sim in the following countries:
Germany, Austria, Belgium, Bulgaria, Croatia, Cyprus, Denmark, Estonia, Finland, France, Gibraltar, Greece, Guadeloupe, French Guiana, Holland, Hungary, Ireland, Iceland, Italy, Latvia, Lithuania, Liechtenstein, Luxembourg, Malta, Martinique Islands, Monaco, Norway, Poland, Portugal, Czech Republic, United Kingdom, Reunion, Romania, San Marino, St. Martin and Sweden.

CHECK YOUR BALANCE
You can check your balance at anytime.
To check your balance using your Lycamobile in Spain, either:
Enter *221# (or 94#), press send, and your balance will be shown on your mobile phone screen; or
Dial 221 (or 95#) and listen to your balance
To listen to your balance while you are abroad:
Dial +34632100221 and follow the instructions.
VIEW YOUR LYCAMOBILE NUMBER
You can view your Lycamobile number on your mobile screen. To have your Lycamobile number displayed: Dial *321# or (97#).
This card is recommended for: Customers who need calls in Spain.
We ship worldwide, to your home, hotel or where you like!

Sim-card is activated at the date you need!
With tracking and drop-off without signature. If you prefer delivery by UPS Extra with required signature, an additional cost will be applied, so please contact us before choosing this method. Whichever shipment choice you make, we will provide you with a link to track your package online.
Possible order for Whatsapp, Telegram: +34 634 364 062