Three UK prepaid 4G internrt –

12GB Data SIM lasts for 12 months (FOR ALL EUROPE)
4G Internet in all countries of the European Union, Iceland, Liechtenstein and Norway, a prepaid SIM card – this is the perfect solution to always be in touch when traveling in Europe!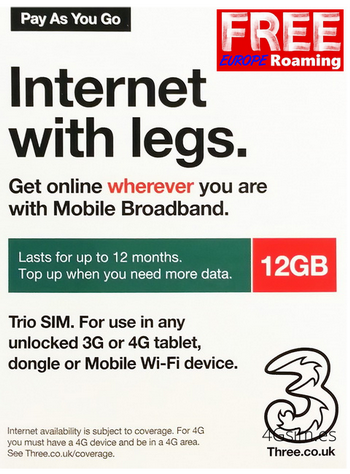 With Three you can use it abroad at no extra cost in 42 feel at home destinations while on holiday, including USA, Australia, Germany, Portugal, Greece and many more. That's more destinations than any other UK mobile network. Pay As You Go customers need an add-on to get an allowance to use data at no extra cost in 42 destinations worldwide.
The 3 PAYG Data Sim has 12GB of 4G internet for your dongle or Mobile Wi-fi/Mi-fi device, which is available to use for up to 12 months. Then just top up when you need more data.
Three's Pay As You Go Trio SIM has all SIM types on one card, so whether you need a Standard, Micro or Nano SIM, you can just pop out the one you need. Just pop this Three data SIM straight into your unlocked 3G/4G device and that is it.
Comes with 12GB data preloaded, so you can catch up on the game highlights, Skype your gap year kids, play Angry Birds and tweet your heart out. Data valid up to 12 months then you can just top up and Pay As You Go.
Using your device abroad at no extra cost with Go Roam.
Because your plan's allowance of data units can be used in the UK and in our Go Roam destinations, you can get online while on holiday at no extra cost. Where and when you use your allowance is up to you.
12GB DATA Available countries: Aland Islands, Austria, Azores, Balearic Islands, Belgium, Bulgaria, Canary Islands, Croatia, Cyprus, Czech Republic, Denmark, Estonia, Finland, France, French Guiana, Germany, Gibraltar, Greece, Guadeloupe, Guernsey, Hungary, Iceland, Ireland, Isle of Man, Italy, Jersey, Latvia, Liechtenstein, Lithuania, Luxembourg, Madeira, Malta, Martinique, Mayotte, The Netherlands, Norway, Poland, Portugal, Réunion, Romania, Saint Barthélemy, Saint Martin, San Marino, Slovakia, Slovenia, Spain, Sweden, Switzerland, Vatican City
Find out more about Go Roam Destinations here.
Renewal price: 40£ / 12 month
SIM Activation
1. When you arrive in the destination, insert the SIM into your device
2. Your phone should receive the signal within 3 minutes and in the meantime it's been activated automatically
3. Most of the phone can automatically configure the internet settings. If your phone does not work automatically, please follow the user instruction

This card is recommended for: Customers who need 3G/4G internet in Europe
We ship worldwide, to your home, hotel or where you like!
Possible order for Whatsapp, Telegram: +34634364062